Maciej Kuźmiński's latest work, the duo event horizon, qualified for the prestigious Rotterdam International Duet Choreography Competition (RIDCC).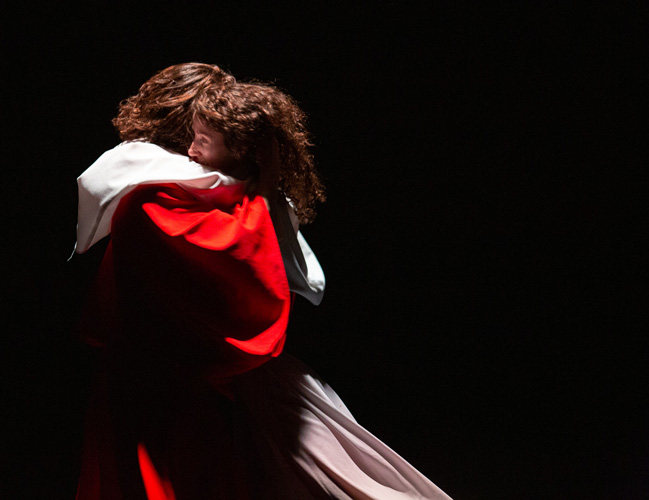 From 417 entries from 62 countries, 16 of the best duos have been selected to compete in the main program of the competition. Live presentations of the selected performances will take place from June 24–26 in Rotterdam and will be broadcast live.
RIDCC is currently one of the leading choreography competitions in the world, offering 11 awards, including production awards for Nederlands Dans Theater, Club Guy and Roni and Dutch National Ballet, and the XL prize of 100.000 Euro for production for Scapino Ballet Rotterdam.
Maciej Kuźmiński, together with the dancers – Monika Witkowska and Omar Karabulut, are the first Polish artists in the history of the RIDCC qualified for this competition.
More on RIDCC here: www.ridcc.com/
About  event horizon
As street protests mount, and sides dig deeper their ideological trenches, the unity of the nation takes a form more of an unwanted guest, rather than a loving family. The white-red Polish flag becomes the very field of the political conflict, the very identity that both sides try to reclaim for themselves. The new and old divisions cut deeper than ever into the fabric of the society, splitting friends and families, inspiring anger, and driving violence. We are heading towards the point of no return. Or have we already crossed it?
The trailer: vimeo.com/kuzminski/event-horizon-trailer
The work's website: https://eng.maciejkuzminski.com/portfolio/event-horizon/
#maciejkuzminskichoreography, choreograf, CHOREOGRAFIA, choreographer, choreography, competition, contemporarydance, dance, konkurs, maciejkuźmiński, Premiera, premiere, RIDCC, Rotterdam