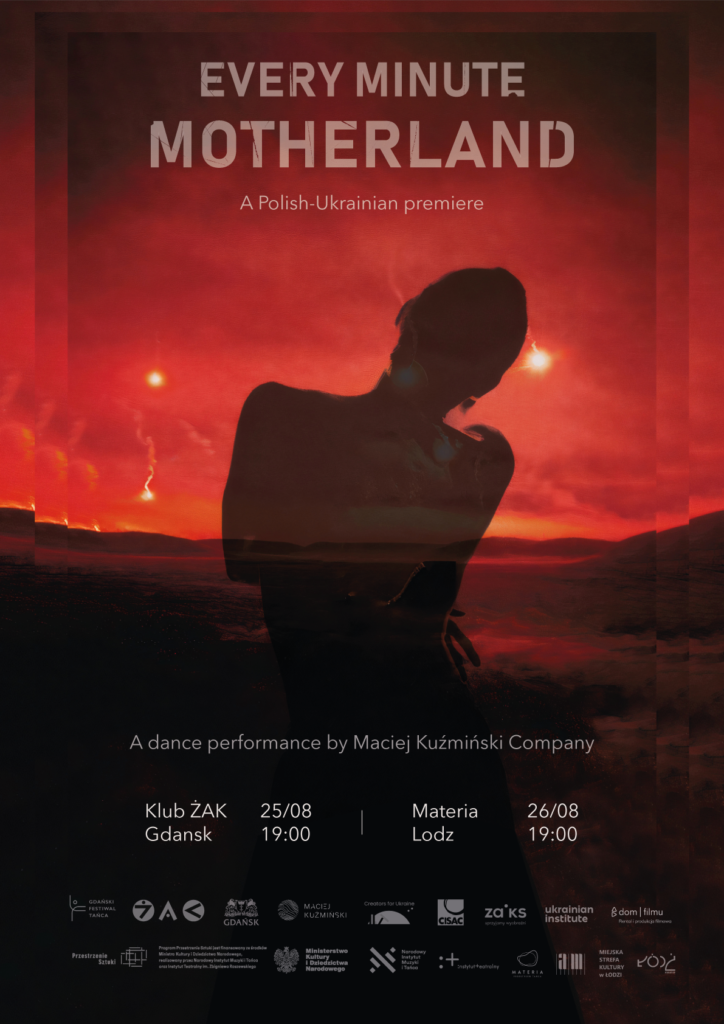 Maciej Kuźmiński dedicates his new performance to the refugee movement. The minimalistic yet powerful dance piece under the title Every Minute Motherland was influenced by the war in Ukraine and developed by the Polish-Ukrainian team, including refugees, who shared their professional and first-hand war experience. The premiere will take place in Gdansk on August, 25 and in Lodz on August, 26, the online screenings are also planned. 

Maciej Kuźmiński calls the war in Ukraine one of the most influential events of his life. In Every Minute Motherland he considers it as a massive force that over and over brings the world in physical and existential motion, questioning our values, identities and ideas of safety and home.
The performance features 7 Polish and Ukrainian dancers who are also its co-authors. With the language of movement only they honestly express a living experience of being torn and unsettled, suspended between the memory of the past and the unbelievable present, hoping to find a path of mutual understanding with the world.
The project is created by Maciej Kuźmiński Company in partnership with Klub Żak in Gdańsk (project residency / premiere 2022), Materia Lodz (Przestrzenie Sztuki program), Creators of Ukraine Foundation (launched by CIAS and ZAIKS), Dom Filmu and Ukrainian Institute.

Choreographer: Maciej Kuźmiński / assist. chor.: Monika Witkowska / dramaturg: Paul Bargetto
Cast: Omar Karabulut, Daria Koval, Anna Myloslavska, Vitaliia Vaskiv, Monika Witkowska, Dominik Więcek, Anastasia Ivanova

---
choreography, maciejkuzminskicompany, Monika Witkowska, Paul Bargetto, Poland, premiere, Ukraine