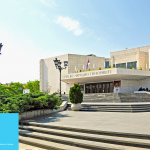 Maciej Kuźmiński has been invited to the Jury of the contemporary section of Serbia's National Ballet Schools competition.
Solo Dominique zdobywcą 1-szej Nagrody, Nagrody Krytyki oraz specjalnej nagrody im. Aleksandra Izailovskiego za "inwencję artystycznego wyrazu".
Maciej Kuźmiński rozpoczął prace nad spektaklem dyplomowym dla studentów 3-go roku Instytutu Tańca Współczesnego w Belgradzie. Praca opiera się o znane dzieło "Nieboszczyk" Branisława Nuśića.