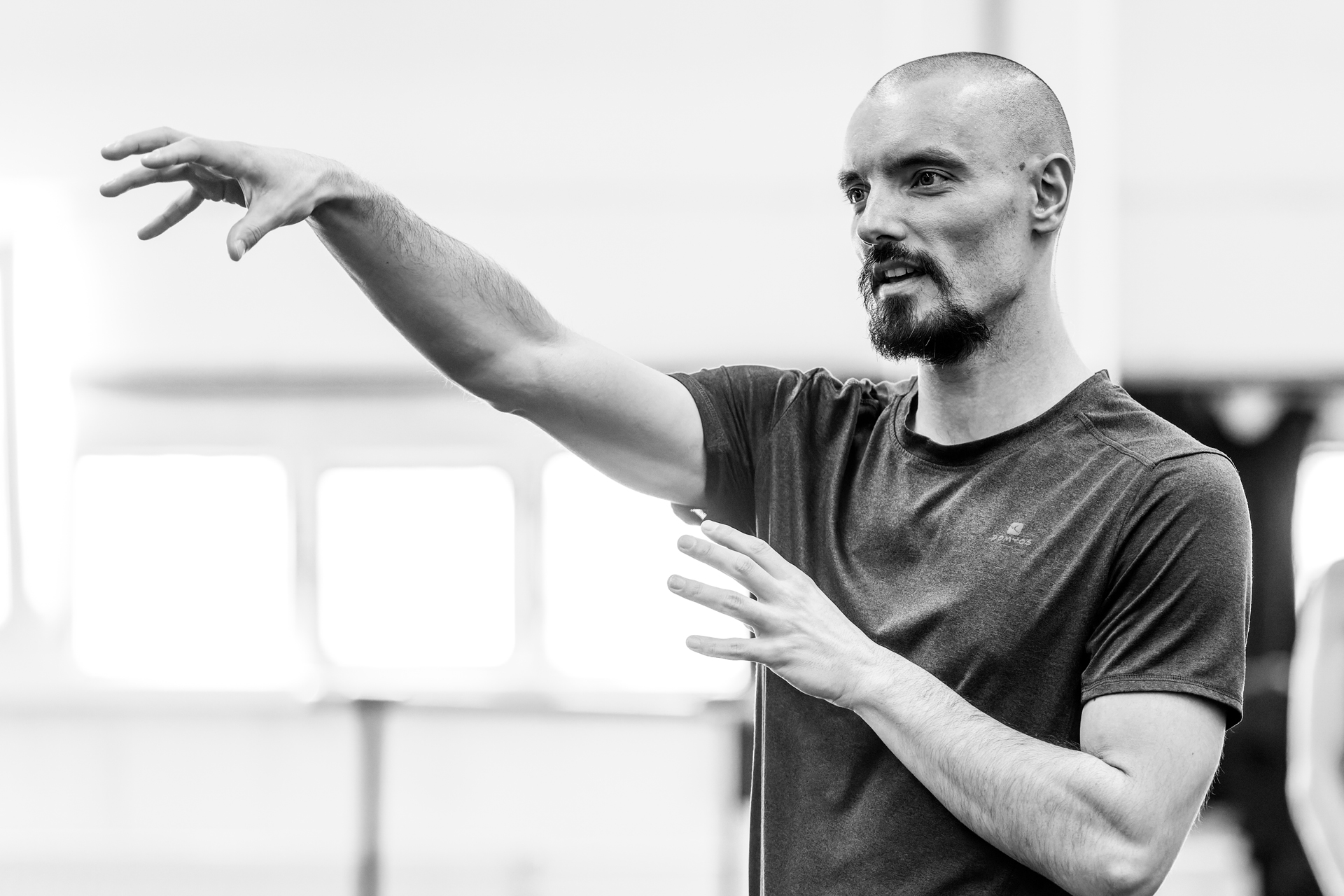 photo by Karl Heinz-Mierke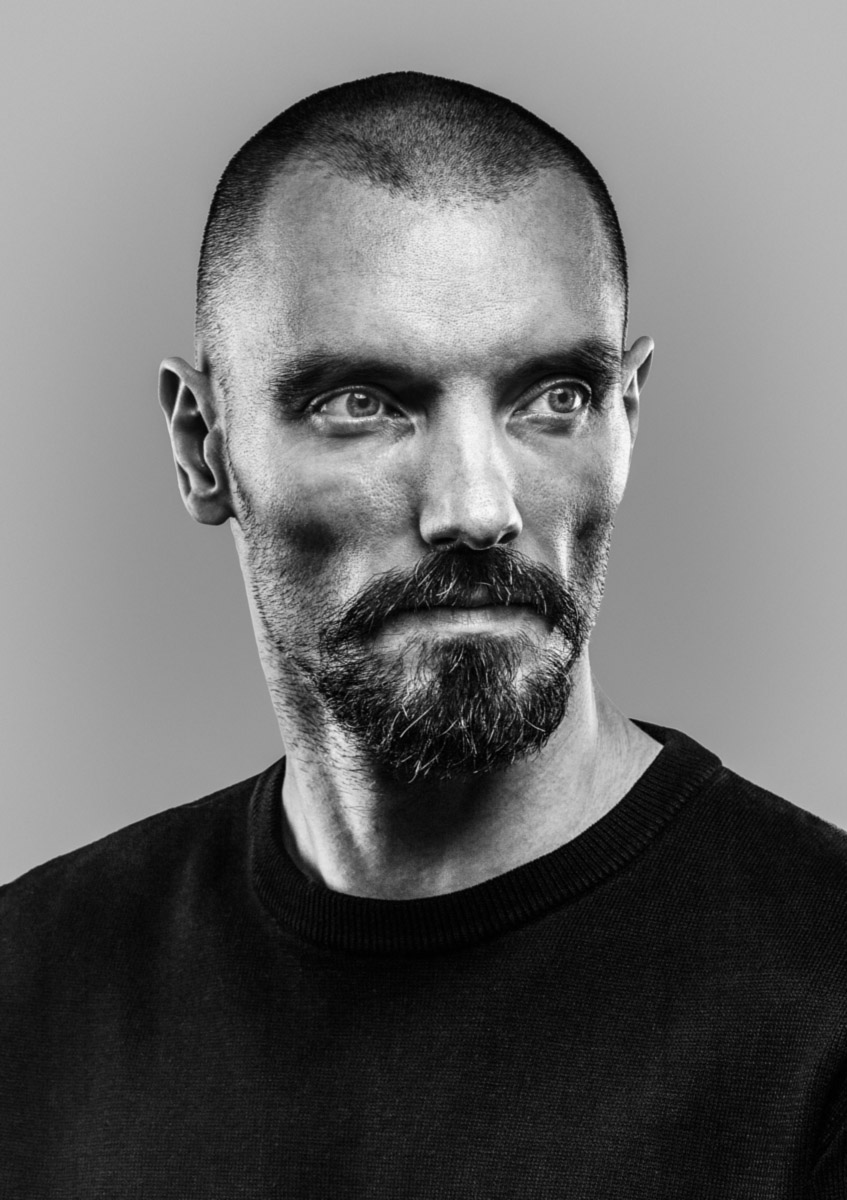 photo by Aleksander Joachimiak
Born in 1985, choreographer, pedagogue and producer. Creator and manager of the first Polish Dance Network. His independent works form the repertoire of Maciej Kuźmiński Company.
He is the first polish-born graduate from rinity Laban Conservatory in London, where he completed the BA Dance Theater and MA Choreography studies, both with distinction.
The two-track choreographic work of Maciej Kuźmiński includes, on one hand, the critical, politically engaged and feminist performances. These works, using the language of physical theater and dance theatre include, among others, Plateau created in collaboration with Paul Bargetto, Ampelmenschen for Regensburg Theater in Germany, or short works Dominique, I fought Piranhas and the event horizon.
Plateau was informally but effectively censored in 2019 after a debate about it in the Bytom City Council.
The second area of ​​the choreographer's interests is metaphysics, philosophy, and existentialism, expressed in more formal performances such as Fabula Rasa created for the Polish Dance Theater, i for the Šeiko Dance Company, or critically acclaimed Room 40 which was one of his first independent projects.
Since 2014, Kuźmiński's works have been presented over 170 times in 21 countries. The artist has won over twenty international awards and distinctions for his performances created as part of the Maciej Kuźmiński Company. As a guest choreographer, he created performances for foreign groups Scapino Ballet Rotterdam (Netherlands), Regensburg Tanz Theater (Germany), Šeiko Dance Company (Lithuania), Eva Duda Company (Hungary) and in Poland for the Polish Dance Theater and Rozbark Theater in Bytom. He is the author of diploma performances for students of the Trinity Laban (England), ArtEZ (Netherlands), PERA GAU (Northern Cyprus) and Belgrade Dance Institute (Serbia) conservatories.
Critics describe his performances as reaching the depths and combining beauty and concept.
awards & distinctions for choreography


2021, Rotterdam, RIDCC International Duo Competition, Codarts Production Prize for duo event horizon
2021, Cracow, 321 Dance Competition, Jury Prize awarded by Iwona Olszowska for duo event horizon
2021, Vilnius, Golden Cross - Professional Performing Arts Award Nomination for group work i, shortlist - nomination for the shortlist of the 3 best choreographies of 2020 in Lithuania, other nominees are Robert Bondara (choreography) and Krystian Lupa (director)
2018, Hannover, 32nd International Choreographic Competition, Regensburg Production Prize for solo I fought Piranhas
2017, Belgrade, 21st Choreographic Miniature Festival, 1st Prize, Critics' Award and the Alexander Izailovski Award for the solo Dominique
2016, Düsseldorf, international dance fair Internationale Tanzmesse NRW, Official Selection - representing Poland in the official program of the fair by the duo Repetition
2016, Hannover, 30. International Choreographic Competition, 2nd prize and Scapino Production Prize for solo Dominique
2016, Stuttgart, 20th Solo-Tanz-Theater Festival, Audience First Choice Award and Audience Final Choice Award for solo Dominique
2016, Vitebsk, 29th International Festival of Contemporary Choreography, 1st prize for choreography for the performance After Before
2015, Warsaw, Warsaw Dance Platform, 1st prize for choreography for solo Dominique
2015, Gdańsk, Solo Dance Contest, 2nd Prize and Audience Award for solo Dominique
2015, Jerusalem, MASH choreographic competition, Final selection performance for solo Dominique
2014, Lublin, Polish Dance Platform, Audience Award for the quartet Room 40
2014, Kraków, competition 321 Dance, Double Jury Prize for choreography for solo Repeat after me, performed by himself
2014, Warsaw, Warsaw Dance Platform, 3rd place for the choreography Repeat after me , performed by himself
Maciej Kuźmiński develops his original method for movement and composition called Dynamic Phrasing. This method is based on four pillars: two techniques of movement - floor work, and upright movement, including the method of working with energy based on repetitive movements called the Loop, drawing on the Chinese QiGong technique. The other two pillars are: the method of recomposition and reconstruction of movement called task basket and the method of movement laboratory based on improvisation and Laban Movement Analysis.
The primary goal of Dynamic Phrasing is to fuse with our own energy: both the one flowing through the body as a consequence of biomechanical conditions (e.g. with the use of fascia and gravity pull), and the life energy (related to presence qualities and embodiment) that allows us to communicate in a nonverbal way with others.
In recent years, Maciej Kuźmiński has been a guest teacher of Dynamic Phrasing technique at world-class conservatories and dance departments such as Codarts - Hogeschool voor de Kunsten in Rotterdam, ArtEZ in Arnhem, Trinity Laban in London, University of Calgary in Canada, PERA GAU in North Cyprus. He also delivered masterclasses for Scapino Ballet Rotterdam, Regensburg Tanz Theater or for the Polish Dance Theater. For 7 years he has been cooperating with IUI - Belgrade Dance Institute in Serbia. In the years 2014-2016 he was a full-time pedagogue at the Department of Dance Theatre in bytom, of the National Theatre Academy in Cracow.

In 2017 he created the first Polish Dance Network, one of the basic assumptions of which is to present the most interesting productions of independent artists and institutional dance groups, and to promote the diversity of Polish dance - including openness to independent artists who do not have institutional support on a regular basis. In 2020, the Network consisted of 15 partners presenting 13 dance works, giving a total of almost 70 shows across the country with the participation of almost 100 artists. He also created a residency exchange program with Luxembourg called Project 2/3. Both the Polish Dance Network and Project 2/3 were taken over by the National Institute of Music and Dance, which currently considers them as some of it's most important projects.
In 2016-2018, he was the head of the Caro Dance Theater in Siedlce. In collaboration with Karolina Wycisk he was the creator of the first festival of contemporary dance in Siedlce. From 2018, a member of the board of the nationwide Dance Forum, for which he created a public internet forum.
Since 2017 he has been running and developing an independent project group called Maciej Kuźmiński Company.
Maciej collaborated with Polish Institutes in Germany, Austria, England, and the Embassies of the Republic of Poland in Luxembourg, Belgrade and Amsterdam. He regularly cooperates with art and culture houses  throughout the country. He has beed honored several times with grants from programs from the Institute of Music and Dance.

The relatively short performance career of Maciej Kuźmiński was interrupted by the decision to turn to choreography and study on MA Choreography course at Trinity Laban.
He made his debut as a dancer in 2007, dancing the part of Romeo in Romeo and Juliet by the Austrian choreographer Liz King. In the years 2007–2010, as a freelance dancer, he performed in performances by Polish and foreign artists such as Nigel Charnock (England), Rose Breuss (Austria), and Joanna Leśnierowska, Witold Jurewicz and Paulina Wycichowska (Poland). In the years 2010–2011 he was a soloist of the Polish Dance Theater for which he performed, among others, in Minus 2 by Ohad Naharin (Israel). In 2013, after studying choreography, he returned as a dancer, with the English physical theater group the Clod Ensemble, with which he performed in work Zero in Sadler's Wells. In 2013–2016 he was a dancer in his own productions. In 2017, he appeared as a guest in plays by Miikka Ryytta (Finland) and the Polish Dance Theater (Żniwa, chor. Iwona Pasińska).
As a performer, he has performed at prestigeous stages of the Grand Theatre in Warsaw, Konzerthaus Vien in Vienna or Sadler's Wells in London among others.