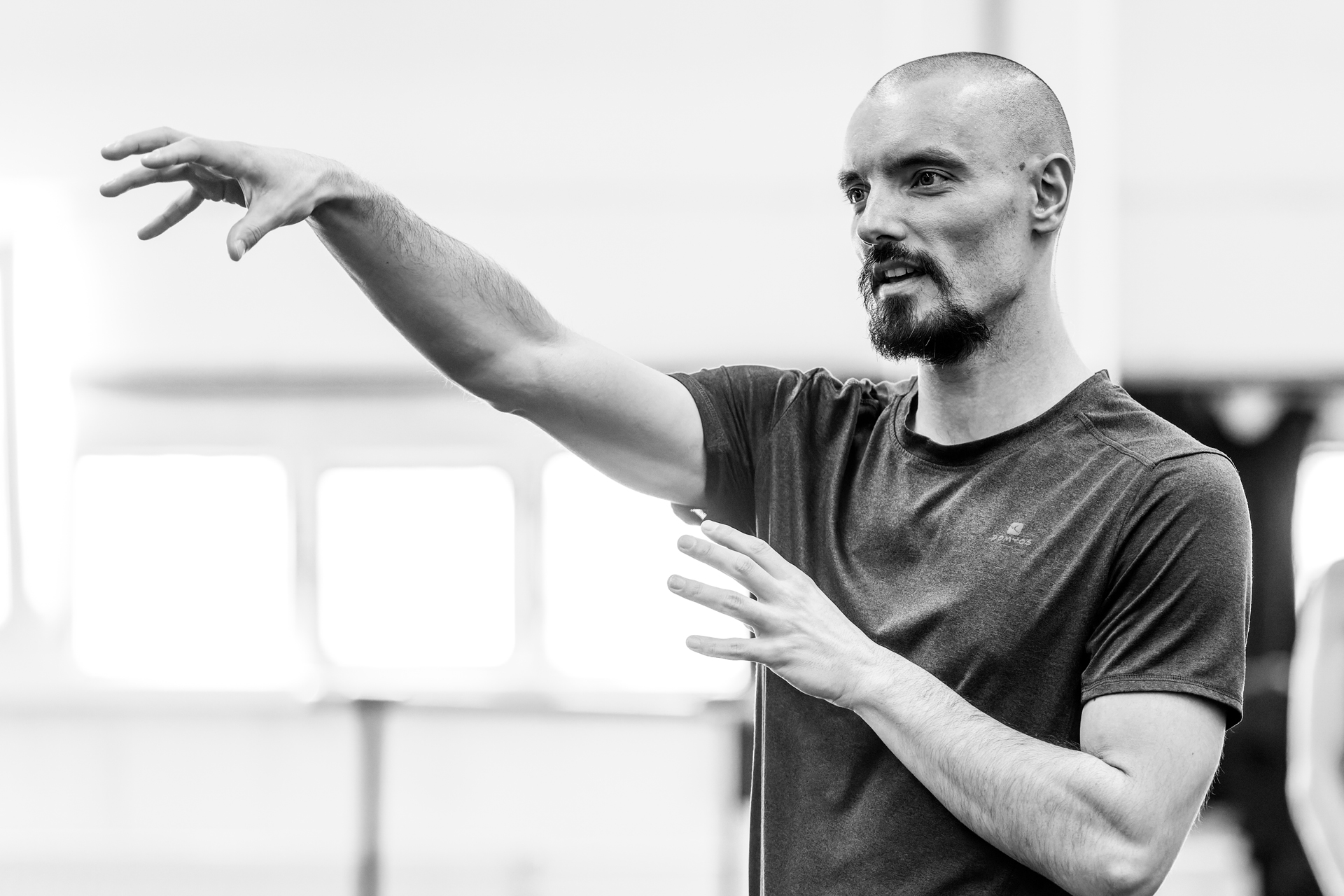 photo by Karl Heinz-Mierke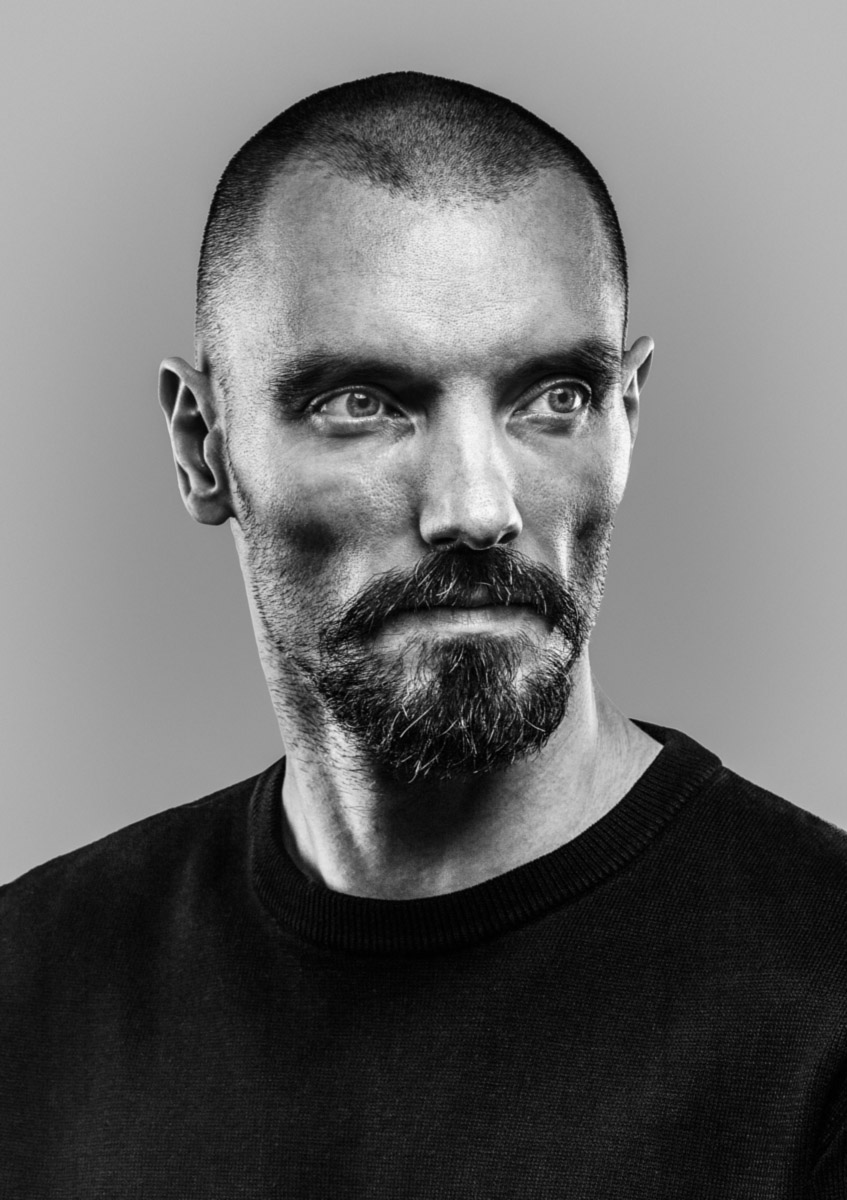 photo by Aleksander Joachimiak
Born in 1985, choreographer, pedagogue and producer. Creator and director (2018-2022) of the first Polish Dance Network. His independent works form the repertoire of Maciej Kuźmiński Company.
He is the first polish-born graduate from rinity Laban Conservatory in London, where he completed the BA Dance Theater and MA Choreography studies, both with distinction.
Since 2014, Kuźmiński's works have been presented over 300 times in 22 countries. The artist has won over twenty international awards and distinctions for his performances created for the Maciej Kuźmiński Company. As a guest choreographer he created companies like Staatstheater Kassel (Germany), Scapino Ballet Rotterdam (Netherlands) and Polish Dance Theater among others. He is also the author of diplomma performances for students of the Trinity Laban (England), ArtEZ (Netherlands), Codarts (Netherlands), PERA GAU (Northern Cyprus) and Belgrade Dance Institute (Serbia) conservatories.
His works are pure, with a grounded, dynamic movement language, and deal with existential and philosophical concepts. Since February 24th 2022, the outbreak of the Russian War in Ukraine, the artist focuses on the subject of war, working with Ukrainian artists-refugees, and dealing with "the most signifficant event in the lives of millions of people, including mine".
In 2019 one of Kuźmiński's work Plateau was informally but effectively censored after a debate about it in the Bytom City Council, Poland.
Since 2009 Maciej Kuźmiński develops an original method for movement and composition called Dynamic Phrasing. Based on five pillars: I - The Loop, II - Movement Research, III - Phrases & Repertoire, IV - Floor Work, V - Task Basket, the method is extensively utilised by the choreographer in his artistic and pedagogical work.
In Dynamic Phrasing we engage in the dialog with our own body, nourishing the diversity inherent to our nature, and exploring the power behind a force we all experience - gravity. This dialogue is strengthened by a versatile practice and the love to experience movement, just like a little journey - by venturing out we remember our roots.
In recent years alone Dynamic Phrasing has been taughts in conservatoires like Codarts, ArtEZ, PERA GAU, Anton Bruckner Privatuniversität, Belgrade Dance Institute, Trinity Laban, and in Polish Dance Theatre. In January 2023 two new teachers were introduced after a year-long teachers training course.
awards & distinctions for choreography


2023, Las Palmas de Gran Canaria, 1st Jury Prize in Solo Contest, Acorán Award, Malta, Turin and Barcelona performance prizes
2023, Frankfurt am Main & Friedrichshafen, Solocoreografico Festival, Best Performance Jury Award, Audience Award
2023, Gdańsk, Solo Dance Contest, 1st Jury Prize, Audience Award
2023, Burgos, 22. BU&NY Certamen Internacional, 4th Jury Prize
2023, Hannover, 37 International Choreographic Competition, Theater Roxy performance prize
2021, Rotterdam, RIDCC International Duo Competition, Codarts Production Prize for duo event horizon
2021, Cracow, 321 Dance Competition, Jury Prize awarded by Iwona Olszowska for duo event horizon
2021, Vilnius, Golden Cross - Professional Performing Arts Award Nomination for group work i, shortlist - nomination for the shortlist of the 3 best choreographies of 2020 in Lithuania, other nominees are Robert Bondara (choreography) and Krystian Lupa (director)
2018, Hannover, 32nd International Choreographic Competition, Regensburg Production Prize for solo I fought Piranhas
2017, Belgrade, 21st Choreographic Miniature Festival, 1st Prize, Critics' Award and the Alexander Izailovski Award for the solo Dominique
2016, Düsseldorf, international dance fair Internationale Tanzmesse NRW, Official Selection - representing Poland in the official program of the fair by the duo Repetition
2016, Hannover, 30. International Choreographic Competition, 2nd prize and Scapino Production Prize for solo Dominique
2016, Stuttgart, 20th Solo-Tanz-Theater Festival, Audience First Choice Award and Audience Final Choice Award for solo Dominique
2016, Vitebsk, 29th International Festival of Contemporary Choreography, 1st prize for choreography for the performance After Before
2015, Warsaw, Warsaw Dance Platform, 1st prize for choreography for solo Dominique
2015, Gdańsk, Solo Dance Contest, 2nd Prize and Audience Award for solo Dominique
2015, Jerusalem, MASH choreographic competition, Final selection performance for solo Dominique
2014, Lublin, Polish Dance Platform, Audience Award for the quartet Room 40
2014, Kraków, competition 321 Dance, Double Jury Prize for choreography for solo Repeat after me, performed by himself
2014, Warsaw, Warsaw Dance Platform, 3rd place for the choreography Repeat after me , performed by himself