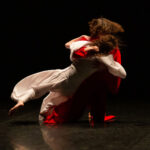 30 September, 20:00
Maastricht, Theater aan het Vrijthof
We are thrilled to announce the return of Maciej's work made for the Polish Dance Theatre – Fabula Rasa. See the work in the new, state of the art headquarter of PDT in Poznań on 1st and 2nd of April. More info in our calendar.
A great review of the first foreign performance of Plateau. Thomas Linden in Koelnische Rundschau writes With epic breadth, but also with many great images, with a cleverly ironic text and a well-rehearsed ensemble that moves like an oiled machine, the spectator is offered a concentrated dose of dance theatre performance.