Save the Date to see the latest work by Maciej Kuźmiński for Regensburg Theatre in Germany, – Ampelmenschen. The premiere is on 7th July @ 19:30 as part of the Tanz.Fabrik!Sieben evening in Velodrome Theatre, Regensburg. More performances follow on 12th and 14th July.
Inspired by the testimonies of ex-DDR citizens, Ampelmenschen takes the audience on a journey through contradictory experiences of many Germans today. In this 20-minute work the brutality of totalitarian East Germany clashes with the brutality of galloping capitalism in early Republic of Germany, with an accomapnying taste of Ostalgia.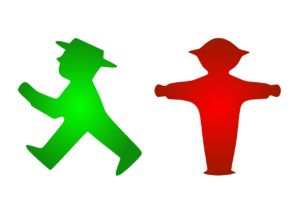 The title is an untranslatable word game, referring to the symbolism of Ampelmännchen (eng. little traffic light man). A characteristic symbol of the GDR traffic lights signal, a green, vigorously walking man in a hat, has become a positive manifestation of Ostalgia, in spite of picturing the 1st secretary of the Party, Erich Honecker, acused of genocide in connection with expanding the "Schießbefehl" order – shooting at citizens trying to cross the border.

Come see uncompromising choreography by Kuźmiński performed by the brilliant Regensburg Dance Theatre
---
Ampelmenschen, East Germany, Regensburg Tanz, Tanz Fabrik Sieben