Maciej Kuźmiński became a guest choreographer for the CODARTS conservatory of contemporary dance in Rotterdam. Since last week, rehearsals for the duo program have been underway, which will enter the repertoire of the Codarts Talent On The Move graduation work evening.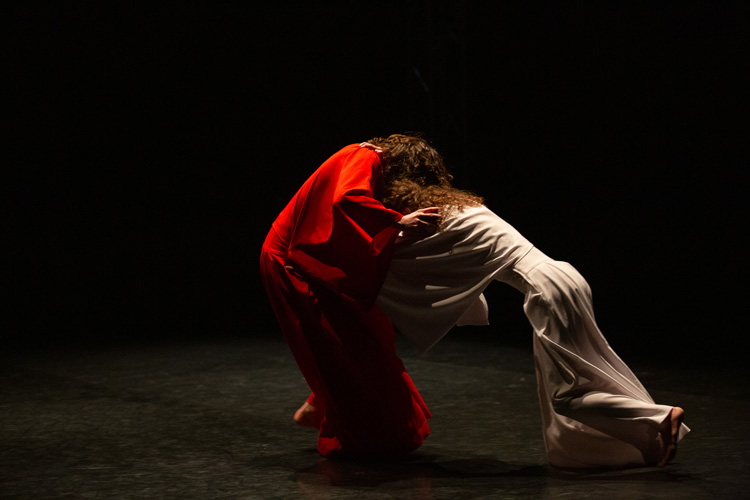 The invitation is a result of the choreographer's recently received award at the prestigious Rotterdam International Duet Competition. Kuźmiński is the first Polish choreographer awarded at RIDCC and to be a choreographer at the Talent On The Move for Codarts.
The event horizon duo, the latest work from the Maciej Kuźmiński Company repertoire, breaks the current model of Kuźmiński's work, who deliberately and consistently excluded physical touch from his works. Event horizon is a reference to a deep split in the Polish society – the impossibility of breaking out form mutual of exclusion, the growing atmosphere of conflict. In addition to the Codarts Production Prize, the duo was also honored with the Jury Prize awarded by Iwona Olszowska at the 321 Dance competition. The premiere cast are Monika Witkowska and Omar Karabulut. The work was created with MKC's own funds and with the local support of Teatr Rozbark and MDK Zduńska Wola.
Talent On The move – From Jiří Kylián to Hans van Manen, from Cayetano Soto to Hofesh Shechter, the range of world-renowned choreographers whose work has been shown during successive Talent On The Move editions in recent years is impressively large and varied. Talent On The Move is the annual touring programme of the virtuoso and versatile top dance talents of Codarts Rotterdam, going on an international tour and presented at popular festivals such as the Holland Dance Festival.
Codarts, hogeschool voor de kunsten, is the most famous art conservatory in the Netherlands and its contemporary dance department is considered one of the best in the world. The school puts a lot of emphasis on technical training, and it's Alumni are to be found at work in such companies like Nederlands Dans Theater, Akram Khan Company, or Cullberg Ballet. Since 2004, Codarts has educated many Poles.
As a teacher, Maciej Kuźmiński works with conservatories and professional groups in Poland and around the world. In recent years he has taught at the invitation of top conservatories and faculties in Europe, such as Codarts in Rotterdam, ArtEZ in Arnhem, PERA in Cyprus and Belgrade Dance Institute. Kuźmiński also holds masterclasses for professional companies – recently for the Polish Dance Theater in Poznań, or the Seiko Dance Company in Lithuania. In the years 2014-2017, Maciej Kuźmiński was a full-time teacher at the Department of Dance Theater in Bytom at the State Higher School of Theater in Krakow (now: Academy of Theater Arts).