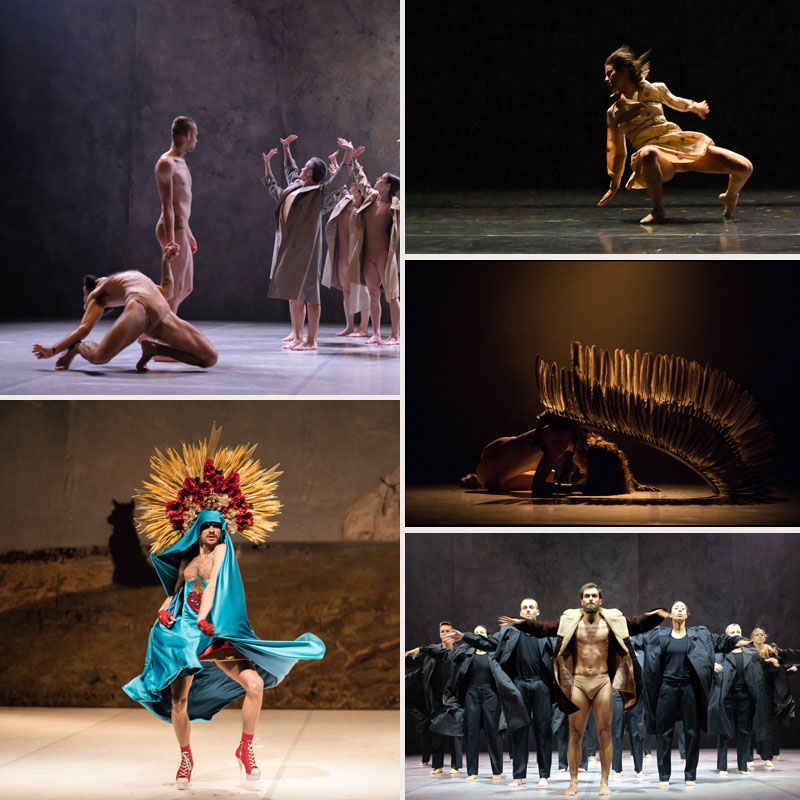 In 2019 Maciej Kuźmiński's works were presented 20 times in 6 contries. We would like to say thank you to everyone involved.
Each year Maciej Kuźmiński collaborates with tens of dance artists and producers. That in turn is made possible thanks to the support and trust of numerous creative directors. You all make this work possible and so in the end of the year we want to THANK YOU for what we've achieved last year.
In 2019 we had 20 performances in 6 countries of 3 premiere works Fabula Rasa for Polish Dance Theatre, Plateau for ROZBARK Theatre and Ampelmenshen for Theater Regensburg. We also performed 3 older works It's gonna Rain for Scapino Ballet Rotterdam, as well as un-becoming & Hotel Excelsior with the Belgrade Dance Institute.
Special thank you to the absolutely amazing creative trio with which we made two so different, yet so deep works Plateau and Fabula Rasa: dramaturge/director Paul Bargetto, set & costume designer Ilona Binarsch and lighting designer Pawel Murlik.
Thank you to:
creative team for your amazing state-of-the-art work:
Zbigniew Kozub, Marta Jagniewska – Bargetto, Paweł Szymkowiak
dancers for your talent and dedication:
Karolina Kardasz, Oscar Mafa, Wojciech Marek Kozak, Paweł Kozłowski, Alexey Torgunakov, Michael Przybyła, Julia Hałka, Zibi Zibi, Sandra Szatan, Adrian Radwański, Paulina Bill Jaksim, Jerzy Kaźmierczak, Em Wong, Paweł Malicki, Kasia Kulmińska, Kacper Bożek, Aga Jachym, Dominik Kupka, Amy Basley, Daniel Michna, Evelyn Blue, Kasia Rzetelska, Dominik Więcek, Alessio Burani, Simone Elliott, Jonas Hackmann, Tiana Lara Hogan, Matkaicsek Peter, Fabian Moreira Costa, Rei Okunishi, Lou Poletti, Tommaso Quartani, Harumi Takeuchi
assistants (& performers):
Monika Witkowska, Paweł Urbanowicz, Kasia Rzetelska
producers/creative-directors:
Aleksandra Machnik, Anna Wróblowska, Christian Maier, Duda Éva, Agnija Seiko, Ed Wubbe, Iwona Pasińska, Agnieszka Konopka, Zorana Mihelcic, Aleksandar Saša Ilić and Vladimir Tomašević, Yuki Mori, Eliza Hołubowska

Polish Dance Network Team for creating a new quality in Polish dance world: Alicja Berejowska, Szymon Michlewicz-Sowa & Aleksandra Dziurosz
And finally, thank you to everyone who indirectly but importantly supported my work in the Polski Teatr Tańca – Polish Dance Theatre, Teatr ROZBARK, Theater Regensburg, Duda Éva Társulat – Eva Duda Dance Company, Šeiko šokio teatras and of course the team & dancers of Scapino Ballet Rotterdam.
---
2019, acknowledgments